Oh hello, groovers.
I was thrilled to collaborate with Phaein recently on here and on my social media platforms. For those of you who aren't familiar, be prepared to have your world changed…!
Phaein is a beautiful, thoughtful lingerie brand. Launched in 2018 with a very simple ethos – wanting to make women everywhere feel empowered, comfortable and properly looked after. Read on to find out more about the brand from the founders themselves, Gesche and Hannah!
Hey, queens. It's so great to have you in my little corner of the internet! Thank you for taking the time to answer my burning questions. Let's get going, shall we?
We'll start at the very beginning. How did Phaein come to be?
G: Hannah and I founded Phaein after many frustrated conversations about not finding nice underwear in our sizes (30FF and 32F at the time). We couldn't understand why there were no modern, comfortable options available to us. Either the styles were old-fashioned or were clearly never meant to support a larger cup size.
After both being made redundant (at two completely different companies and jobs) we were each left looking for jobs and questioning what to do next. I decided I wanted to take the plunge and start my own company and asked Hannah to join me. We wanted to create a brand that's honest about fit and sizing – which is that there is such a huge range of body shapes and types, and everyone has unique preferences and needs, which means no one product will ever work for everyone. Instead, we want to encourage people to find what works for them so they can discover, like we did, the difference supportive bras and comfy knickers can make!
I honestly used to hide my figure because I never felt happy with the shape my bra gave me. That started to change when I discovered my correct size (I was a classic case of too loose band and too small cup!). After that it became hard to find my correct size that gave me the shape I liked (not too pointy!). I initially wore lots of moulded foam cups, but I didn't like the bulk they added, and I started to find that they didn't give me much lift compared to cut-and-sew styles. That's what makes me so passionate about helping others find what works for them, because I've been through that frustration, and that's what Phaein means to me.
H: Just like Gesche I had a hard time finding anything in my size and what I did find was just not fun. I always walked up to the colourful lace bras in the store to see if they had my size but was met with disappointment every time. I also always preferred the padded bras as I have quite soft breast tissue and anything unpadded just didn't look good on me, I thought, digging in at the top or giving me a weird shape. But now that we have designed unpadded bras that fit me, I realise how weightless a bra can be! And this is what we want other women to understand and discover, underwear that fits their individual needs and work for their bodies.
What or whom are your biggest style inspirations and influences?
H: We take a lot of inspiration from nature and always think about what would work for different skin tones when we pick our colours. But the starting point for us is always to understand what type of product we want to develop and the function we want it to fill, what issues have we encountered, and what issues have our customers told us about.
For example, when developing our bralette, we knew we wanted a comfortable and secure bralette that fits cup sizes, as neither of us had ever found a bralette that did that. Most brands don't do individual cup or band size, it's always size S/M/L and we never fit in those! We also wanted a luxurious feel and to use performance fabrics and soft elastics. We think about every little detail from fit to fabrics, trims, and stitch details and then finally the feel of the finished product. Once we are happy and feel we have produced a garment that fulfils the function we set out to meet, then we start considering elements such as colour.
Tell us about your sustainability goals, please! (I LOVE that page on your website!)
G: Aww I'm so glad! We're actually working on updating it with more information! Our current top goals are to become zero waste and trace our supply chain as far back as is possible with the ultimate aim of a fully transparent supply chain. We also constantly monitor and question which fabrics we use and whether there are better alternatives that meet all of our criteria (softness, function, design, availability, origin and environmental standards).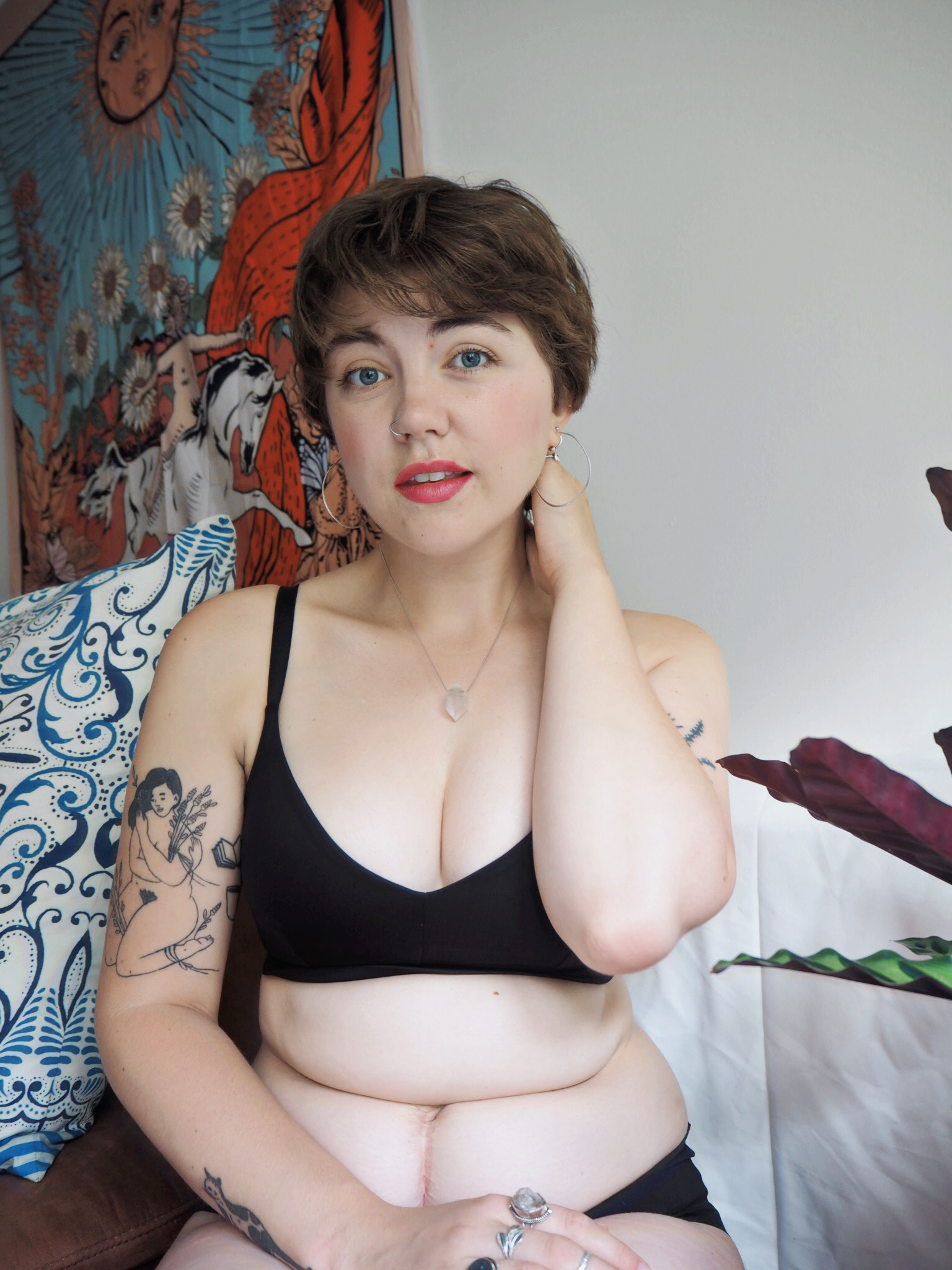 Phaein was founded in 2018. what has this business (and industry) taught you, since then?
G: How complex garment production really is and how much time and effort goes into production! Although I studied Fashion Design, our course never covered production or sourcing. It was eye-opening to realise all the constrains you come up against and how this world is designed around mass-production (which is tricky for us to navigate as we're producing small volumes as part of our slow fashion mentality).
If you could give any aspiring entrepreneurs a key piece of advice, what would it be?
G: Two things 1. Trust that you can grow with the challenges that arise 2. Listen to advice and ideas and take them seriously but don't give up on your own vision if they don't feel right.
H: It may feel overwhelming sometimes but step back and prioritise, there's always going to be a lot going on when starting a new brand but if you have a plan, it might help you. And be ready to constantly change it based on what is needed. Oh, and have fun, don't forget to stand back, and remember why you started the journey in the first place.
Same question as above – but referring to humans in general! What do you think we need to think more about, or get experience in?
G: I believe we should be kinder in general. To ourselves, to others, and to other living beings and the environment too. We all share this world and have nowhere else to go.
H: To be in the moment, it has been ingrained in us early on to constantly achieve things. Perfect grades, perfect job, perfect partner etc. But what's the point of it all if we don't stop and enjoy life.
Thank you so much to the Phaein queens for chatting with me (virtually).
If you'd like to see the IG content I created in collaboration with them, tap here.